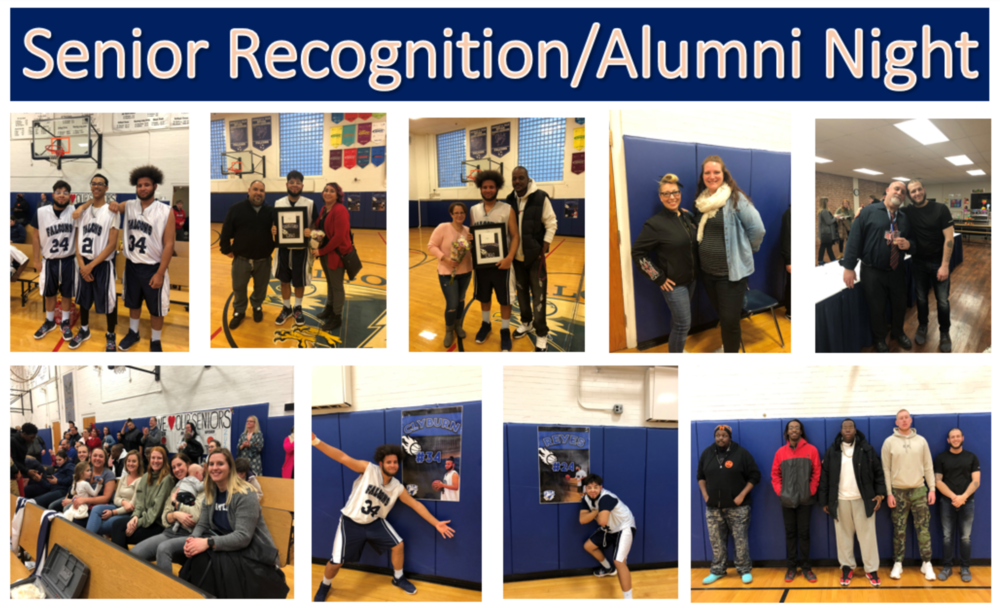 Senior Recognition/Alumni Night
Stanley G. Falk School
Tuesday, February 25, 2020
Thank you to all the families, friends and staff who came out to cheer on the Falk Falcons at the 15th Annual Senior Recognition/Alumni Basketball Game held on Thursday February 13, 2020. The Falcons hosted St. Mary's School for the Deaf and delivered a high energy performance from start to finish. The Falk School also welcomed back five alumni who played on the team in past years. Shaieme Brown ('12), Zach Koch ('18), Raymond Rowland ('18), Jason Graham ('19) and Dean Doxtater ('19) showed their support and watched the game, cheering on their alma mater.
During half-time, the varsity coaches and principals recognized outstanding senior student-athletes for their accomplishments both on and off the court. Benjamin Collins, Nyshawn Clyburn and Miquel Reyes have shown outstanding sportsmanship and have been team leaders this season. The athletes and their parents were welcomed to center court and presented with a framed picture of their Falcon jersey and a gift card as a token of appreciation for their hard work and dedication to the Falcon team this year.
Thank you for supporting the Falcons! The team heads into the IAC playoffs this week with the first game on Tuesday, February 25 at Christian Central Academy. Tip-off is at 5pm.
Go Falcons!