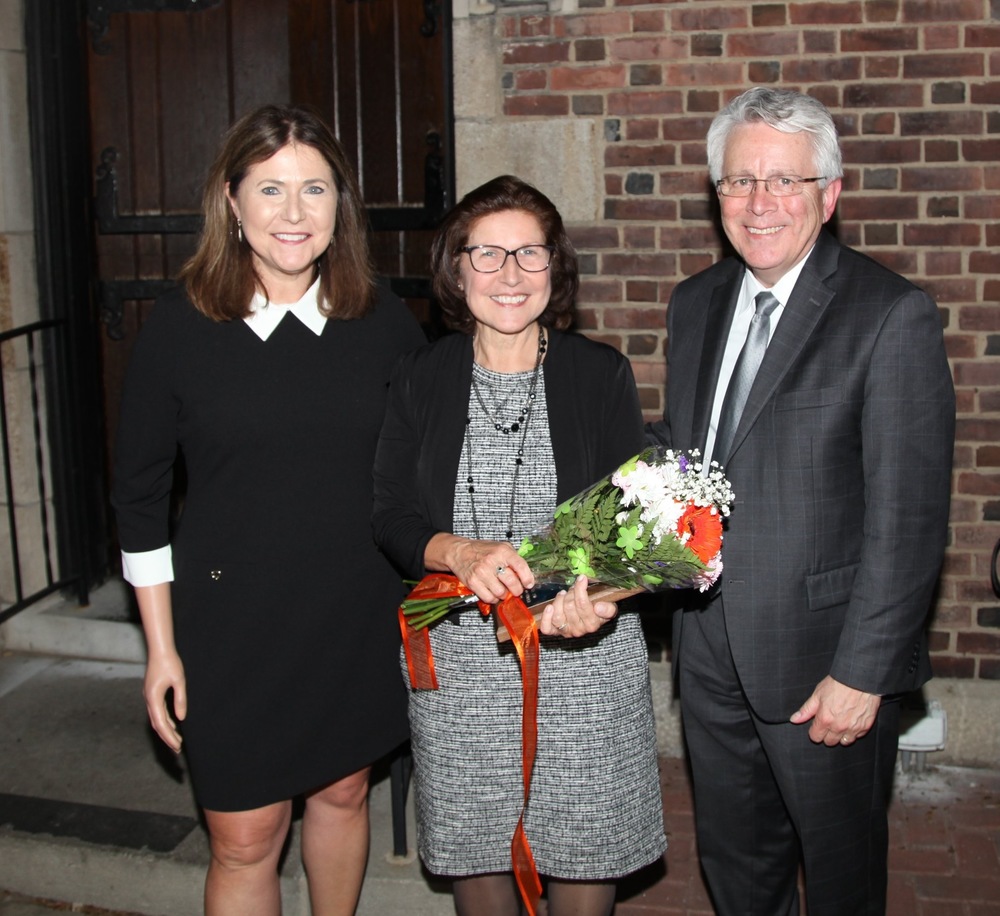 Rebecca Jacob Named 2019 Distinguished Educator
Stanley G. Falk School
Friday, June 21, 2019
Mrs. Rebecca Jacob of our Rossler campus was recognized on Wednesday night at the Saturn Club of Buffalo for being the recipient of the 2019 Stanley G. Falk Memorial Award for Distinguished Educators.
The Stanley G. Falk Memorial Award for Distinguished Educators is designed to recognize the efforts of an educator who strives to uphold the mission of the Stanley G. Falk School that provides a traditional school experience with educational supports for students with special learning and behavioral needs.
This award acknowledges an educator for demonstrating excellence & high standards, and for giving of time above & beyond for the betterment of our school community, creating extraordinary educational experiences for at-risk students.
Rebecca Jacob is a dedicated school counselor who has been an anchor member of the school counseling team for over 20 years at the Rossler campus. She began her career at the Falk School in 1996, has worked with many different grade levels, and is currently the counselor for eighth-grade students. Mrs. Jacob's vast experience, composure, and enthusiasm have contributed to the development of countless students over her tenure at the Falk School.
Her genuine focus on the whole child has made her very well-liked and respected by her students and colleagues as well as a valued partner to parents and guardians. Her work guides our students on the path to success in school and beyond.
Mrs. Jacob's behavioral intervention approach and strategies embody the Falk School mission and vision, decreasing student escalation using a foundation of trusting relationships. She dedicates herself to learning about each student's background. She takes time to get to know each student's family and maintains close contact to complete the connection for her students so that school and home function together.
In addition to this, she provides our students and families with food, clothing, and other necessities whenever she sees a need, without ever being asked to and without expecting anything in return. She spends her own money and time outside the work day to provide whatever is necessary so that students can focus on their learning rather than difficulties they may face that are beyond their control. She has even scheduled and provided transportation to & from medical and dental appointments for students. She understands that real learning cannot take place if students are concerned about fundamental needs - so she works to remove any barriers without drawing attention to the issue and without expecting recognition.
Mrs. Jacob is instrumental in promoting a positive school culture and invests in our students in many areas. She has built relationships with outside agencies and facilitates referrals that benefit our students in their lives beyond the school building. Mrs. Jacob emphasizes community service with all of our students and has strong associations with the Cheektowaga Police Department, local nursing homes, and the American Cancer Society that put our students in service situations they would not otherwise have access to.
She uses authentic experiences to offer students lessons on life's challenges like persisting through adversity, handling disappointment, and working as a member of team.
Overall, Mrs. Jacob embodies the positive qualities and dispositions any parent or school administrator would want in an educator. Her optimism and level-headed disposition influence both her students, colleagues and the school as a whole.
Mrs. Jacob's rare ability to hold students to high academic as well as behavioral expectations while building meaningful relationships is an immeasurable resource for our school community. She is held in high regard by all. Her advocacy for students, her innovation, dedication, positivity, her remarkable skills as well as her proven success make Rebecca Jacob a deserving recipient of the 2018-2019 Stanley G. Falk Memorial Award for Distinguished Educators.
Congratulations, Mrs. Jacob and thank you for your service!